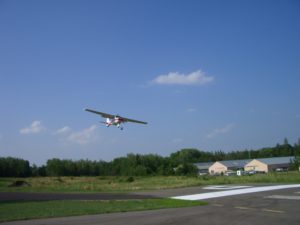 Breezy Point Airport has a 50 year history. Farm land purchased in 1964 by the Breezy Point Resort eventually become a unique part of the history of Breezy Point, Minnesota. Breezy Point Resort developed a strip of farm land into a 2,600-foot lighted airstrip.
The Breezy Point Resort retained ownership of the airport over the years even though the ownership of Breezy Point Resort transitioned from owner to owner. In 1968 nine owners from the Hopkins House restaurant of the Twin Cities then purchased the resort.
Nighttime aircraft operations ceased in the 1970s when, in conjunction with the growing popularity of snowmobiles, the lights were destroyed during the winter months. The resort then decided on the removal of the lights and subsequent cessation of nighttime operations.
The airport and the resort finally parted company in 1980, when the Hopkins House Breezy Point Co. sold it to a group of pilots who incorporated as a Minnesota corporation. From that point on, the airport has been under the private ownership of its corporate shareholders.
---
The Evolution of Breezy Point Resort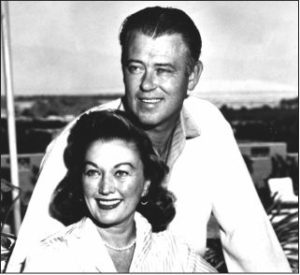 The Breezy Point Resort has written a series of articles on the history of the Breezy Point Resort. In Part 2 of their series, you can read about the development of the resort and the creation of the airstrip that would become Breezy Point Airport. You can find the entire archive of the historical series on the Breezy Point Resort website.
---
Breezy Point Airport Preservation Group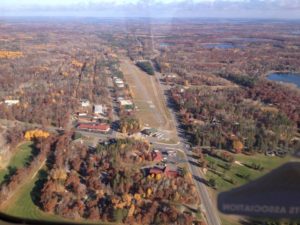 While the Breezy Point Airport has a clean, high quality paved runway, future expansion and maintenance is handled differently than public airports. At Breezy Point the expansion and upgrades of the airport property is privately funded. The cost of maintenance for the runway and grounds comes from annual membership fees and assessments. To date, the airport still has a policy of daylight operations only, as the runway is not lighted.
Airport expansion is completely up to the private shareholders of the airport through their board of directors. Most of the adjacent properties, hangars and residences along the runway are deeded to private owners. These properties along the runway, including the aircraft hangars, are developed, bought, and sold much like residential real estate.
The future of the airport is now up to the pilots who use it. The Breezy Point Airport Preservation Group is an affiliated group of aviation enthusiasts dedicated to preserving the property as an active airport so it can be utilized for years to come. To that end, the the Breezy Point Airport Preservation Group supports growth in the number of pilots who use the airport and become shareholders in the airport corporation. The Breezy Point Airport Preservation Group also operates by purchasing properties adjoining the runway to prepare them for the construction of aircraft storage hangars for use by pilots.